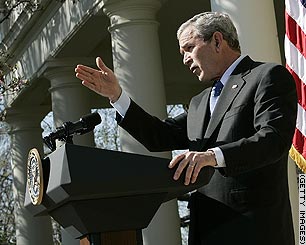 The latest CBS poll
shows strong support for the democratic proposal to set a timetable for US involvement in Iraq.
More than half of Americans support the U.S. House provision setting a timetable that calls for most U.S. troops to be out of Iraq by September, 2008. According to a new CBS News poll, 59% of those surveyed favored the provision while 37% are opposed.
On a related note, see
Glenn Greenwald's
latest column on this topic.
Fox News'
latest poll has Dubya with a 61% disapproval. That's the highest disapproval rating for Dubya. Ever. Surprisingly, the Fox headline was about dems being confident of taking the White House in 2008. Go figure.
Survey USA
has a cool interactive feature up on their home page that allows you to look at head-to-head general election matchups of all the major presidential candidates.
As always,
Pollster.com
is the single best web site for polling-related matters. I also recommend
Professor Pollkatz
; his graphic of Dubya's approval represented as a toilet flush is both hilarious and telling.