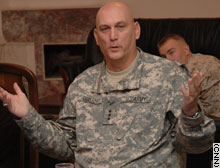 It seems to me the US has been largely beating its head against a brick wall when it comes to Iraq. The only solution has been to add troops, step up security. Many have seen the folly and have advocated withdrawals of US troops - either from the front lines, or from Iraq altogether. No proposed solution has seemed satisfactory.
So, how about a
cease fire
? Seems like a good idea to me.
U.S. military commanders are talking with Iraqi militants about cease- fires and other arrangements to try to stop the violence, the No. 2 American commander said Thursday.

Lt. Gen. Raymond Odierno said he has authorized commanders to reach out to militants, tribes, religious leaders and others in the country that has been gripped by violence from a range of fronts including insurgents, sectarian rivals and common criminals.

"We are talking about cease-fires, and maybe signing some things that say they won't conduct operations against the government of Iraq or against coalition forces.," Odierno told Pentagon reporters in a video conference from Baghdad.
Its a brief article, but surely the US must be offering things in return - like not conducting operations in insurgent strongholds. I'm merely speculating.
However, this does provide the opportunity for some breathing space, an chance for ordinary Iraqis to go about their daily lives. Significantly, it also provides a new opportunity for a national reconciliation.
Will the cease-fire work? Who knows, probably not. But, I'm giving a big thumbs up to giving a try at something new, something that involves less killing.